Committed to purity and flavour
In accordance with the Bavarian purity law our Mönchshof is a genuine natural product. That's why we use natural ingredients, if possible from our region or close by, to give our speciality beers their unique flavour. Not for nothing is Franconia still one of the largest cultivation areas for malting barley.

Our commitment: The Bavarian purity law of 1516
We value high quality standards as well as the centuries-old brewing tradition of our home. That's why we've decided to only brew our Mönchshof beers in accordance with the Bavarian purity law.
The law was enacted by Duke William IV of Bavaria on 23 April 1516, in the Bavarian city of Ingolstadt, with the following wording: "From now on we don't want anything other than barley, hops and water to be used for making any beer in any of our towns, markets or in the country". What is probably the oldest food law is also one of the toughest. These facts make it a quality seal for sustainability and purity that is recognised all over the world. What's more, it ticks all the boxes regarding diversity, possible recipes and variety of flavours.
By the way, another ingredient – yeast – is specified today, a raw material that people didn't know about at that time. People relied on yeast that was naturally in the air.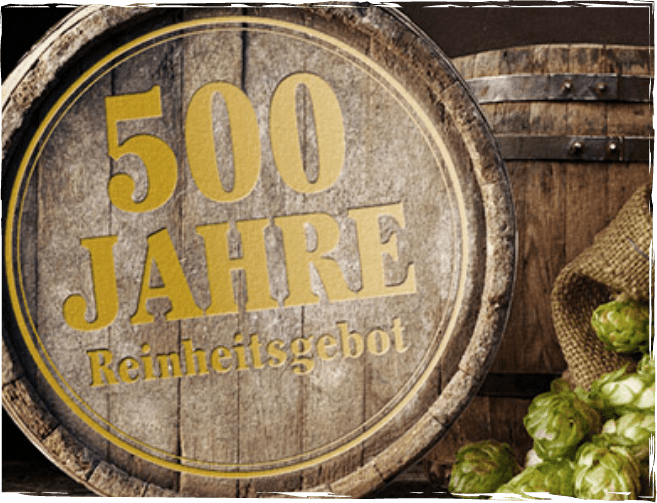 Beer is one of the oldest drinks known to man: The oldest evidence of beer is around 5000 years old. It's no surprise then that virtually unlimited varieties and recipes have been created for this popular drink over the course of centuries.
The best raw materials for our speciality beers
In addition to the ancient, traditional beer recipes and the skill of our brewers, it's mainly the carefully selected ingredients that make our speciality beers taste unique.
We use the following raw materials:
Soft brewing water from the nearby Fichtel Mountains
Malting barley for the malt from our local Kulmbach region
Selected hop varieties from Bavarian Hallertau
Our own purebred yeast for unique flavour
Protecting the environment as much as possible is very important to us, so that we will also be able to get our ingredients locally in the future. We are doing our bit to protect nature and all resources with our certified environmental management. We are delighted to have been recognised by the independent organisation GREEN BRANDS as a "green everyday brand" for the fourth time for our commitment to environmental protection and sustainability.
Find out more about our ingredients HERE.
Almost forgotten beer recipes rediscovered
We have mainly taken our inspiration for our Mönchshof speciality beers from the "historic" varieties from Germany and, in particular, Bavaria.
With these exceptional speciality beers, such as the original, Bavarian version of Märzen that was widespread for a long time and even brewed as a noble beer, we are consciously committed to beer varieties that were brewed for special occasions, certain times of year or in a unique way – and bringing them back to life.