Our Mönchshof Bräuhaus
Over 600 years of relaxed ambience
Experience brewing tradition, rustic flair and Franconian speciality beers and delicacies – all that and more makes our Mönchshof Bräuhaus in Kulmbach a unique gastronomic experience! The monastic spirit of hospitality still lives on today. OPENING HOURS:
Wednesday – Saturday: open all day from 11
Sunday: 8.30 until 14.00 & from 17.00, 14.00 until 17.00 only drinks in the serving area
SB BIERGARTEN
Weds-Fri from 17.00 & Sat/Sun from 11.00 all day
FROM 01/11: Monday to Saturday: open all day, every day from 11.00
Sunday: open all day from 8.30
EVERY SUNDAY:
8.30 – 11.30 our popular Bräuhaus breakfast
from 11.00 – Franconian lunch
from 15.00 – coffee and homemade cake
from 16.00 – our extensive evening menu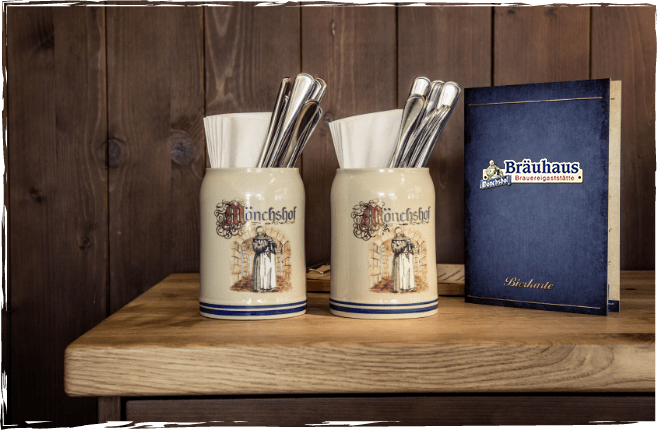 Bräuhaus impressions
The historic guest rooms that were once built on monasterial ground have been lovingly restored and furnished. Impressively thick walls and deep vaults provide a fitting backdrop for all kinds of occasions. The attractive beer garden, with its large, ancient chestnut trees and extensive children's play area, is also a highlight on sunny days.
Meals
Original Franconian Bratwürste or Schäufele – the Bräuhaus is famed for its authentic, Franconian cuisine! However, we also serve vegetarian and vegan dishes every day.