Wide Selection of Speciality Beers for Connoisseurs
Centuries-old brewing tradition and our master brewers' attention to detail guarantee a diverse taste experience for discerning beer connoisseurs to this day. Discover the diversity of our Mönchshof beers with every sip.
Mönchshof Beers: Speciality Beers with Character
Brewing beer is our passion – you can taste it in every drop. At Mönchshof, our love of our craft starts with the choice of ingredients. From special malts, aromatic hop varieties and the addition of pure, soft water from the Fichtelgebirge [Fichtel mountains], our experienced master brewers brew authentic speciality beers. According to time-honoured recipes and strictly in accordance with the Bavarian Purity Law, they create unforgettable taste sensations.
At Mönchshof, we have the right beer for every taste, whether it's a mild Kellerbier, a drinkable Helles, a fruity Natur Radler or a non-alcoholic beverage - experience the craftsmanship and passion of our master brewers for yourself.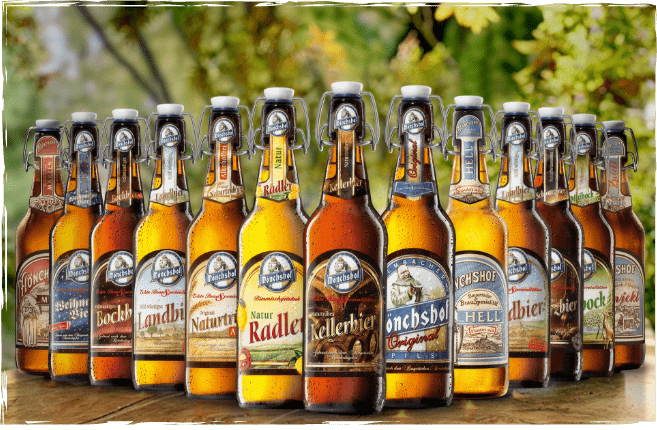 Please enter a zip code.
* Required field
** May improve results
No location found. Please try a diffrent parameter.
Please note that some retailers only make part of their range available online. However, any dealer will be happy to provide you with more information about actual availability.
The Beer with the Distinctive Pop
The sound of anticipation: the legendary pop of our nostalgic swing top is an essential part of the Mönchshof beer experience. But our classic bottle top also has many practical benefits. For example, they keep your favourite beer as fresh and sparkling as it should be.
No matter how, no matter where, enjoy Mönchshof speciality beers with all your senses
More about our craft